Vous avez été nombreuses à me poser la question, alors comme sur Instagram, le texte est un peu réduit, donc j'en profite ici.
Du coup, je fais deux types de séance en corde à sauter. Soit du cardio, 45 minutes, soit du hiit. Je fais généralement une de chaque par semaine.
Une séance de corde à sauter en cardio
Je m'échauffe à un rythme lent pendant environ 10 minutes (3 chansons ;)).
Ensuite, je commence par des exercices pour les débutants, que vous pouvez trouvé « ici ». Je varie les exercices, généralement 30 secondes par jambe et/ou par exercice, et ce pendant environ 10 minutes. Lorsque je sens que je fatigue, je reprends un rythme de croisière pendant une minute (ou une chanson si vraiment ce n'est pas un bon jour haha).
Ensuite, je passe aux exercices intermédiaires, et là je fais 30 secondes d'exercice et 30sec à mon rythme de croisière car ils sont un peu plus intenses. Je fais cela pendant 15 minutes environ
Enfin, je m'arrache à fond pendant 10 minutes sur les exercices pour les experts, 1 min par exercice !
Une séance de corde à sauter en hiit
Elle est beaucoup plus rapide mais beaucoup plus intense.
Je m'échauffe pendant 3 minutes à un rythme assez lent.
Puis pendant 10 minutes, j'alterne 30 sec d'accélération, 30 sec de rythme lent.
Je ralentis à la fin des 10 minutes, pendant 2 minutes pour récupérer.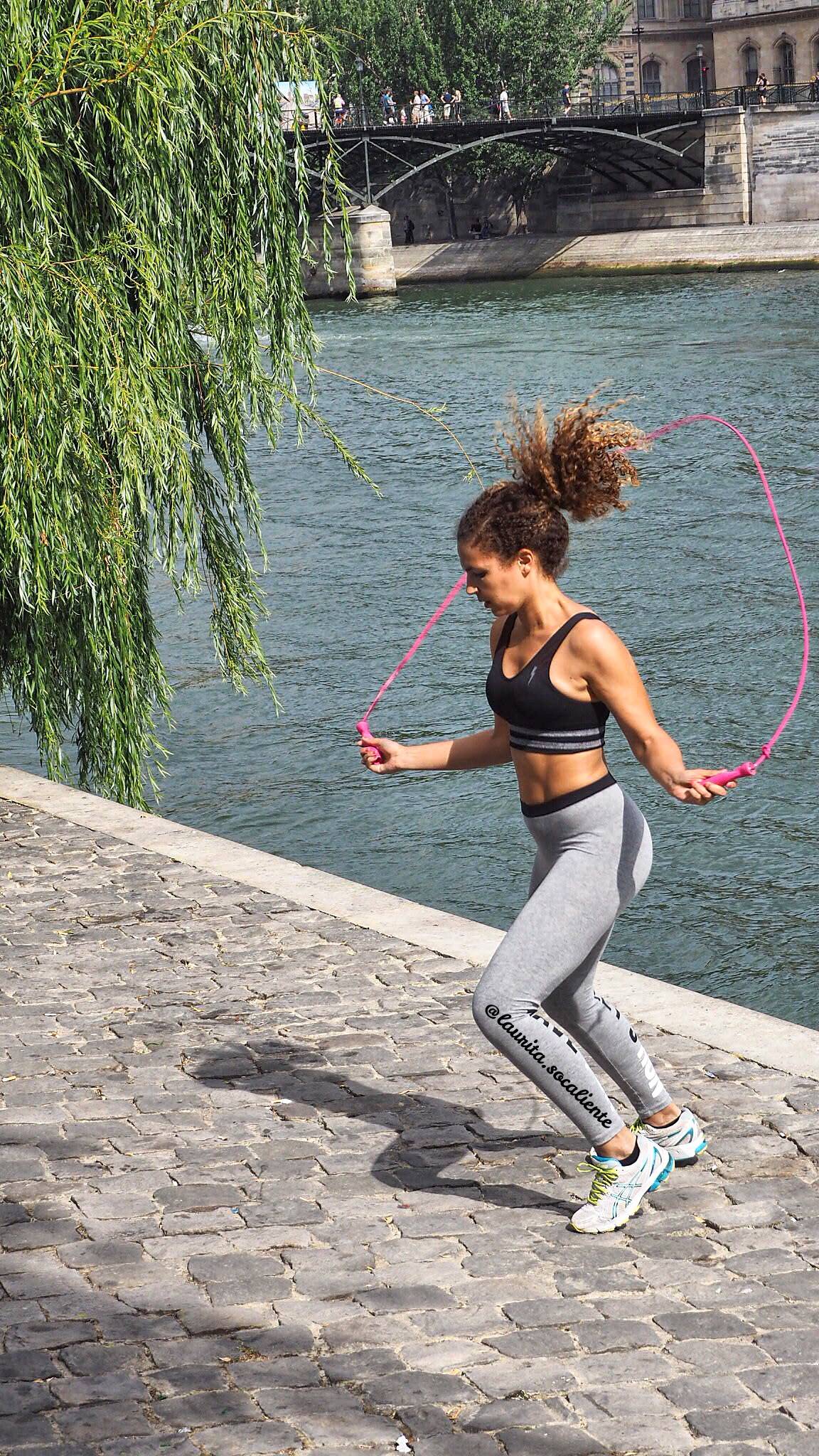 Si vous avez besoin d'avantage de conseils, jettez un oeil à ma vidéo en bas de cet article 😉
Xxx
L.S.
---
You asked about my detailled sessions of skipping rope. So you have to know that I do two session per week, one LISS session and one HIIT.
LISS Session
I warm up with a slow rhythm for around 10 minutes (3 songs)
Then, I start with begginers exercices, that you can find here. I vary exercices, generally, 30 secondes per legs and/or for example, for 10 minutes. When I am a bit tired, I take back my regular rhythm for a minute (or one song if I am really tired).
Then, I switch to intermediary exercices, and I alternate 30sec of exercice and 30sec of regular rhythm because it is a bit more intensive. For 15 minutes, I stay on this stage.
Then, for the 10 last minutes, I give everything I have, for experts exercices, 1min per exercice!
HIIT session
Much more shorter because more intensive.
I warm up for 3 minutes, with a slow rhythm.
For 10 minutes, I alternate 30sec of acceleration and 30 sec of slow rhythm.
I slow down after the 10 minutes, for 2 minutes to take back my breath.
Good luck 😉
Xxx
L.S.
Photo Credit: Rainbow_Espoir
If you are a starter, please have a look at my Youtube Video 😉