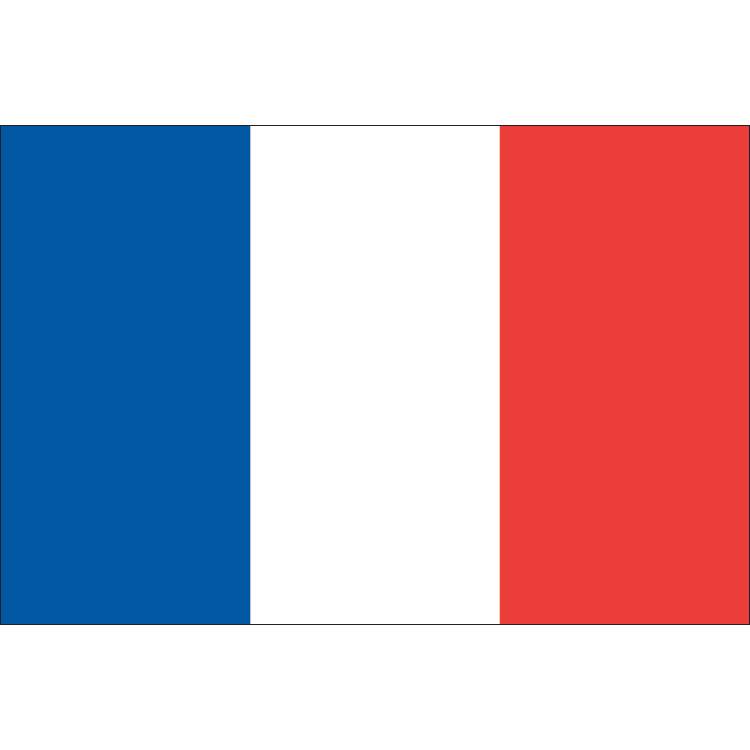 Hello !!
Aujourd'hui, parlons ballonnements !
Premièrement, définissons ce qu'est un ballonnement! 
C'est un gonflement du ventre suite à l'accumulation de gaz dans l'intestin ou dans l'estomac. 
Ce gaz provient principalement des aliments une fois fermentés (féculents, légumes secs…), mais aussi de l'air avalé, des gaz contenus dans les sodas, chewing gums etc.
Ils peuvent durer quelques heures après le repas. S'ils se répètent et deviennent habituels, foncez voir un médecin.
Maintenant, attention, avoir le ventre gonflé après avoir mangé n'est PAS un ballonnement ! C'est seulement que vous avez rempli votre estomac, et qu'il fait ses petites affaires pour gérer tout ça. Donc en plus du repas que vous venez d'ingurgiter, vous avez les acides et la bile !
Et entre nous, quand vous regardez votre assiette, vous avez une certaine masse devant vous. Comprenez-donc que cette masse est désormais dans votre ventre !
Alors ne confondez pas tout. Le corps mets environ 2h pour digérer totalement un repas normal, donc n'ayez pas peur si vous avez le ventre gonflé juste après mangé, c'est pour tout le monde pareil et c'est une preuve que votre corps fonctionne bien !
Je vous ai fait un article sur les apparences sur Instagram, je pense qu'il est temps de partager une photo de ma morning shape, puis de ma shape after breakfast !
Rappelez-vous que les gens ne postent pas leurs "after cheat meals shapes" hein !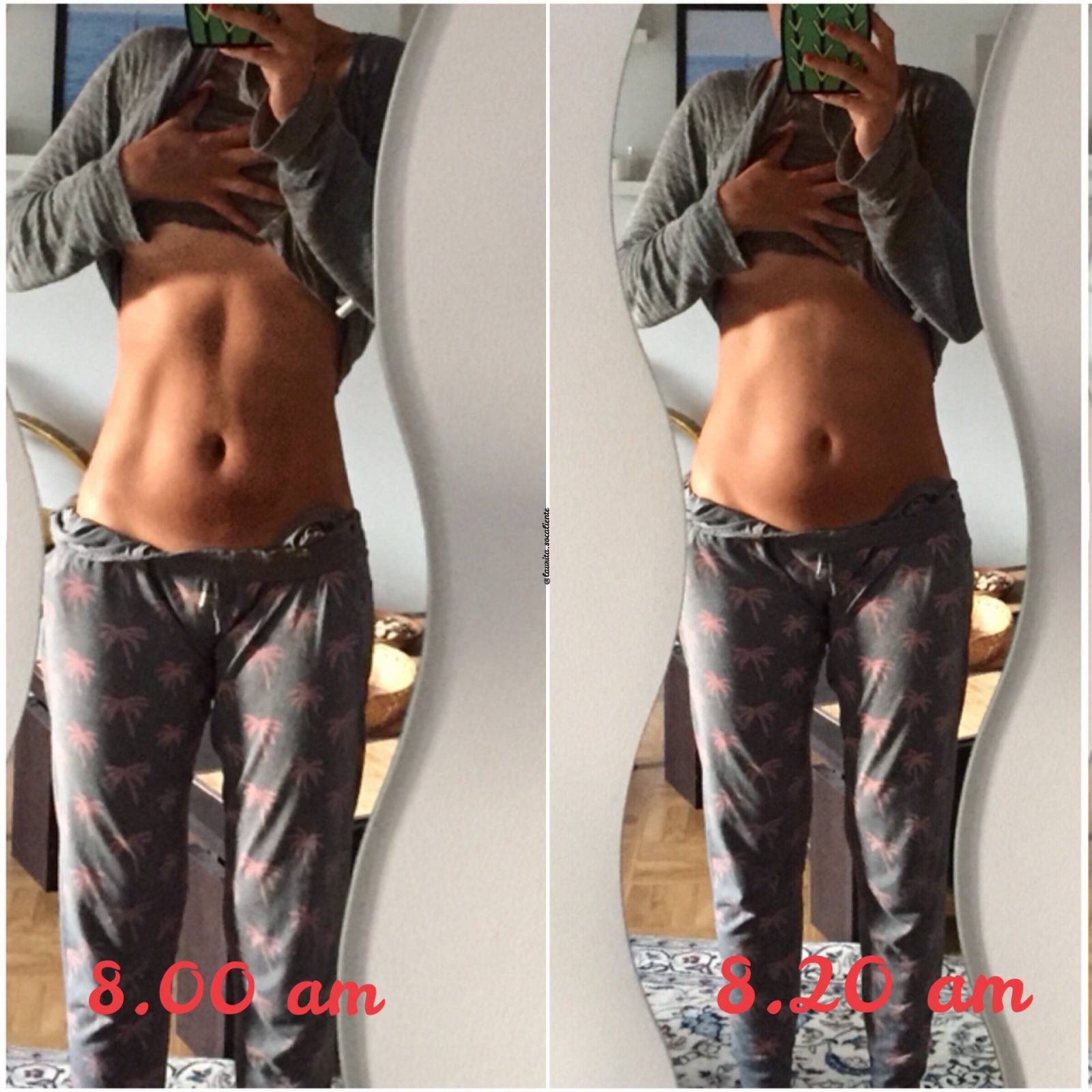 Ne complexez pas, vous êtes parfaitement normales, et vous n'avez rien à envier aux autres, puisqu'elles aussi, une fois le ventre plein, il est gonflé ! Tout est une question de lumière, timing, miroir etc !
Et si vous êtes tout de même persuadées d'avoir des ballonnements, voici quelques conseils pour les limiter.
Buvez beaucoup d'eau en dehors des repas, mais pas pendant
Prenez votre temps pour manger, machez
Consommez des légumes cuits
Évitez au maximum le sel, les sodas et boissons gazeuses
Laissez votre corps faire son travail tranquillement, il le fait à merveille.
With humanity,
L.S.
---
Hey !!
Let' talk about bloating !
First, what is bloating ?
It is your belly swelling up because of too much gas in your stomack.
The gas created when in some food such as vegetables is fermenting, or because of soda's gas, or chewing gum.
It can last a couple of hours, and if too regular, go and see a doctor.
Now, having your belly swelling up after eating IS NOT bloating, it is perfectly normal ! Your stomach is just processing food you just put in, and you also have all its acids to process it.
By the way, when you look at your plate, there is a certain mass, well it is the same mass in your belly right after eating.
Don't mix everything up, if your belly is swelling up after eating, it is just correctly working ! And it is for every body the same.
I wrote an article about Instagram's appearences, and remember that people never post their "post cheat meal" shape, always their "my belly is flat let us take advantage of it" shape 😉
Now is a good time to share with you my morning and post breakfast shapes !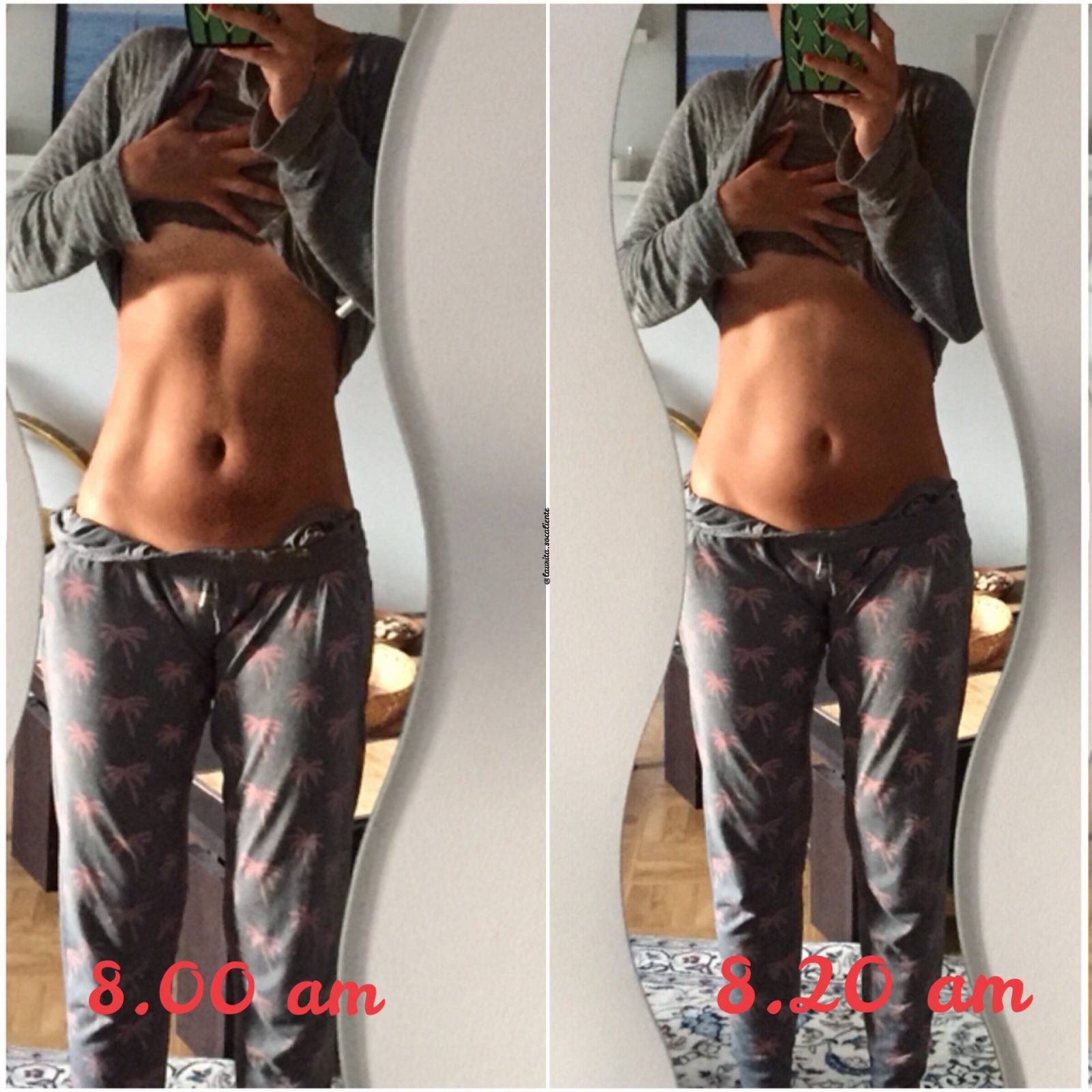 Don't complex yourself, you are perfectly normal, and you have nothing to envy from others as they also have a belly swelling up after eating ! Everything is about mirror, light, timing etc.
And if you are absolutely certain that you have bloating, here are some advices to limit them:
Drink a lot of water outsides your meals, but not during
Take your time to eat and shew
Eat cooked vegetables
Avoid salt, sodas and gas beverages
Let your body work, it does it amazingly !
With humanity,
L.S.