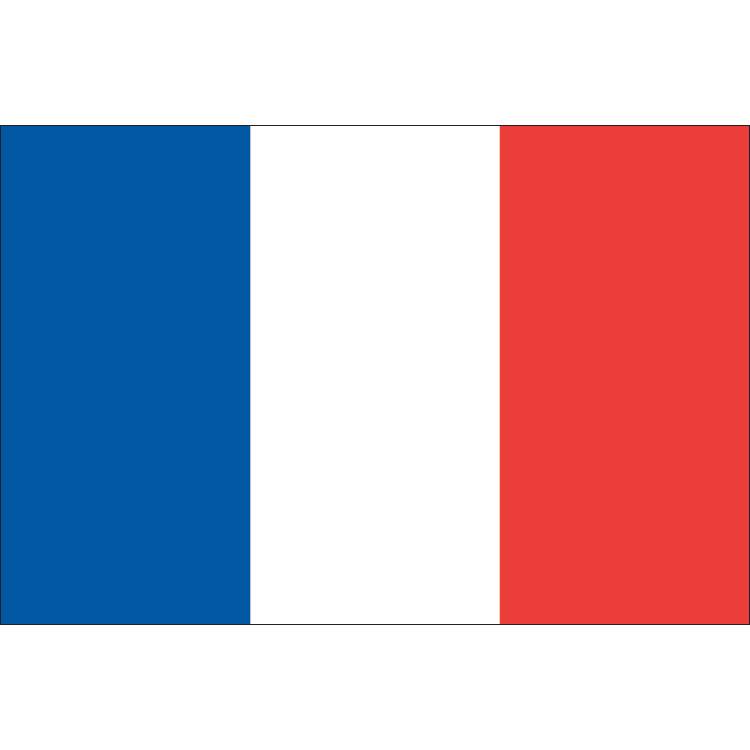 Coucou mes choutes !
Alors aujourd'hui, nous allons parler d'un sujet qui me tient à cœur. Sur Instagram, n'importe qui peut paraître plus fit ou plus fat qu'il ne l'est. Tout est une question de posture, de lumière, de miroir, d'appareil photo et j'en passe ! 
Nous avons tendance à l'oublier, mais sur Instagram, réseau social axé sur la photographie principalement, les gens se montrent sous leur meilleur jour. Et moi la première d'ailleurs ! Il est bien évident qu'une jolie photo donne plus envie qu'une photo floue, un peu sombre et fade !
Il n'y a rien de mal à cela, dans ce monde superficiel, c'est le jeu, il faut simplement en être informé !
Je ne parle évidemment pas de photoshop, évidemment présent sur Instagram et sur les réseaux sociaux en général, mais malheureusement il n'y a aucun moyen de savoir si une photo a été photoshopée ou non. Ensuite, pour homogénéisé un feed, certains utilisent des filtres, qui retouchent les couleurs. Encore une fois, question d'esthétique ! Et je suis la première à adorer me balader sur un compte Insta propre, avec un thème précis, de jolies couleurs et photos.
Il suffit d'avoir dans un coin de sa tête que ce n'est pas la vraie vie, qu'il s'agit de PHOTOS et que l'on leur fait dire ce que l'on veut. 
Franchement, quand je regarde mon fil d'actu sur Insta, j'ai l'impression que toutes les femmes au monde sont bizarres, des bombes, sans cellulite, sans un pet' de gras, avec un booty du tonnerre et des jambes infiniment longues et toniques, des seins énormes et fermes, des bras dessinés, des cheveux volumineux, des lèvres pulpeuses, une peau parfaitement lisse.
Et quand je regarde autour de moi, dans la rue, à la plage, à la salle, je vois des femmes belles, un peu plus petites parfois, un peu plus rondes parfois, un peu plus fines, avec des cheveux un peu plus courts ou moins épais, avec leurs défauts et leurs qualités, et je me souviens de ce qu'est la vraie vie. Ces femmes dans la rue sont belles toutes en étant NORMALES ! 
Rappelez-vous toujours qu'une photo ne dit pas ce que fait la personne de ses journées, ce qu'elle mange, son rythme de vie, son état psychique, son mode de vie… Vous ne savez rien des personnes que vous suivez, si ce n'est ce qu'elles veulent bien partager avec vous, au moment où elles souhaitent le partager 🙂
Pour fêter cela, voici deux photos de mes jambes, prises à 30 secondes d'écart 😉 J'espère que cela vous aidera à relativiser !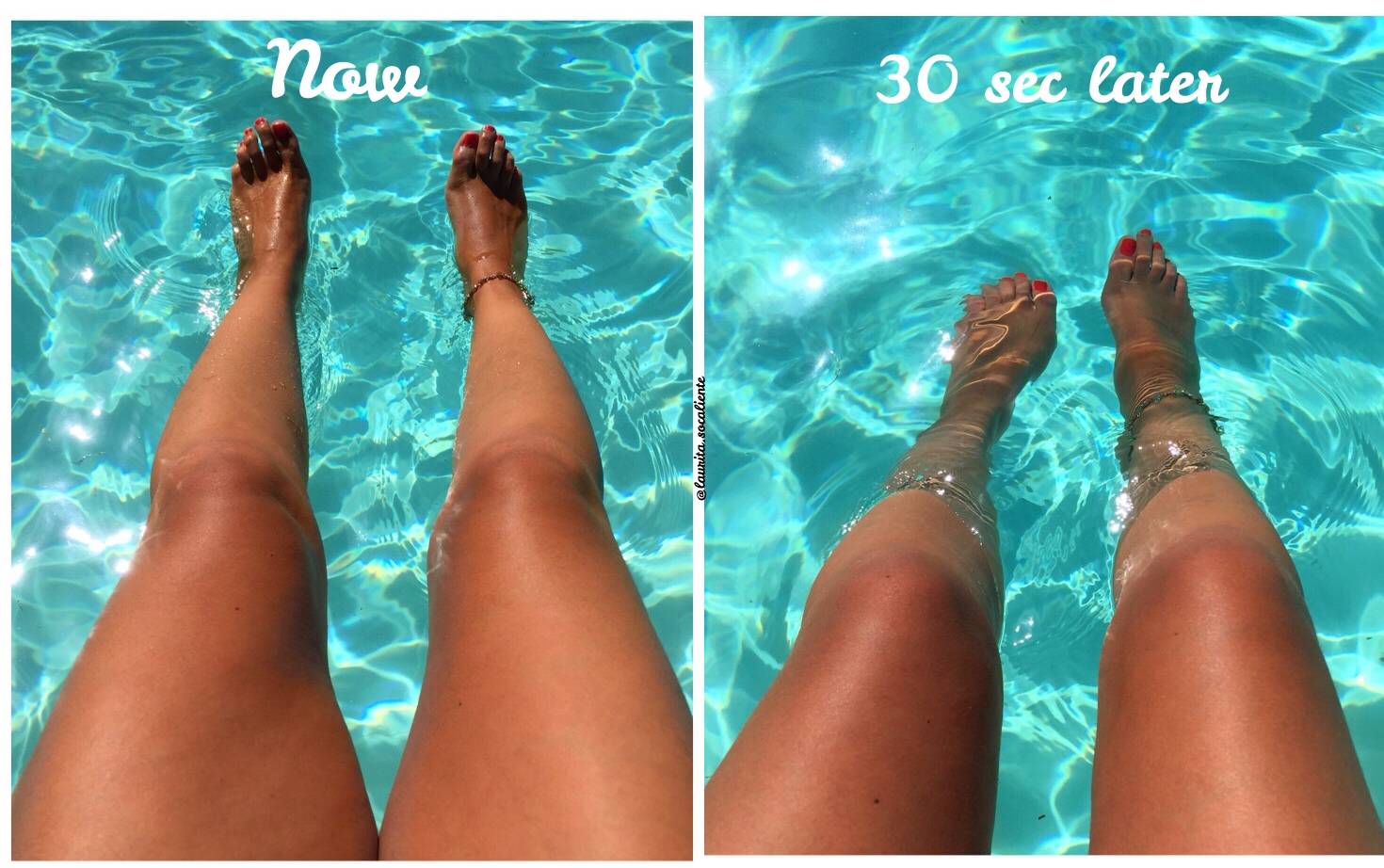 Alors on arrête de complexer, on se rappelle que l'on est belles, qu'on est fortes et qu'on a mille et unes qualités. On se sert des réseaux sociaux pour se motiver, mais pas pour se comparer.
Avec humanité 😉
L.S.
---
Hey gurls,
Today we are going to talk about something I care about. On Instagram, everyone can look more fit, more fat or whatever he really is. It is all about posture, light, mirror, camera etc. 
We tend to forget it but on Instagram (photography oriented social network), people show you their good side. And I am the first to do it ! Of course a beautiful photo is more liked that a blurred, dark and fade one !
There is nothing wrong with this, in the superficial world, it is the game, you just have to be informed.
Of course I am not talking about Photoshop, of course some people photoshop their photos on Instagram and social networks in general, but unfortunately you cannot know if it is the case or not. Then, to homogenize a feed, some use filters modifying the colours.
It is all about aesthetic. And I love following a clean feed, well coloured photos.
You just have to always have in mind that this is not real life, it is PHOTOS and you can make them say whatever you want. 
Honestly, when I look my Instagram feed, I feel like all women are weird, with huge abs, lean legs, without cellulite, with long volume hair, without fat, and a toned booty, big tonic boobs, and pulpy lips.
And when I look around me in the street, at the beach, at the gym, I see beautiful women, a little shorter, a little bigger, a little thiner, with shorter hair, with their qualities and flaws, and I remember that THIS IS LIFE. Women are beautiful being normal.
Always remind yourself that you don't know what the person eats, what she does all day, what she is currently going through, what she thinks. You know nothing (John Snow) about people you are following, except what the agree to share with you.
To celebrate, here are a 30 sec apart photos took the same day ! I hope this will help you put things in perspective.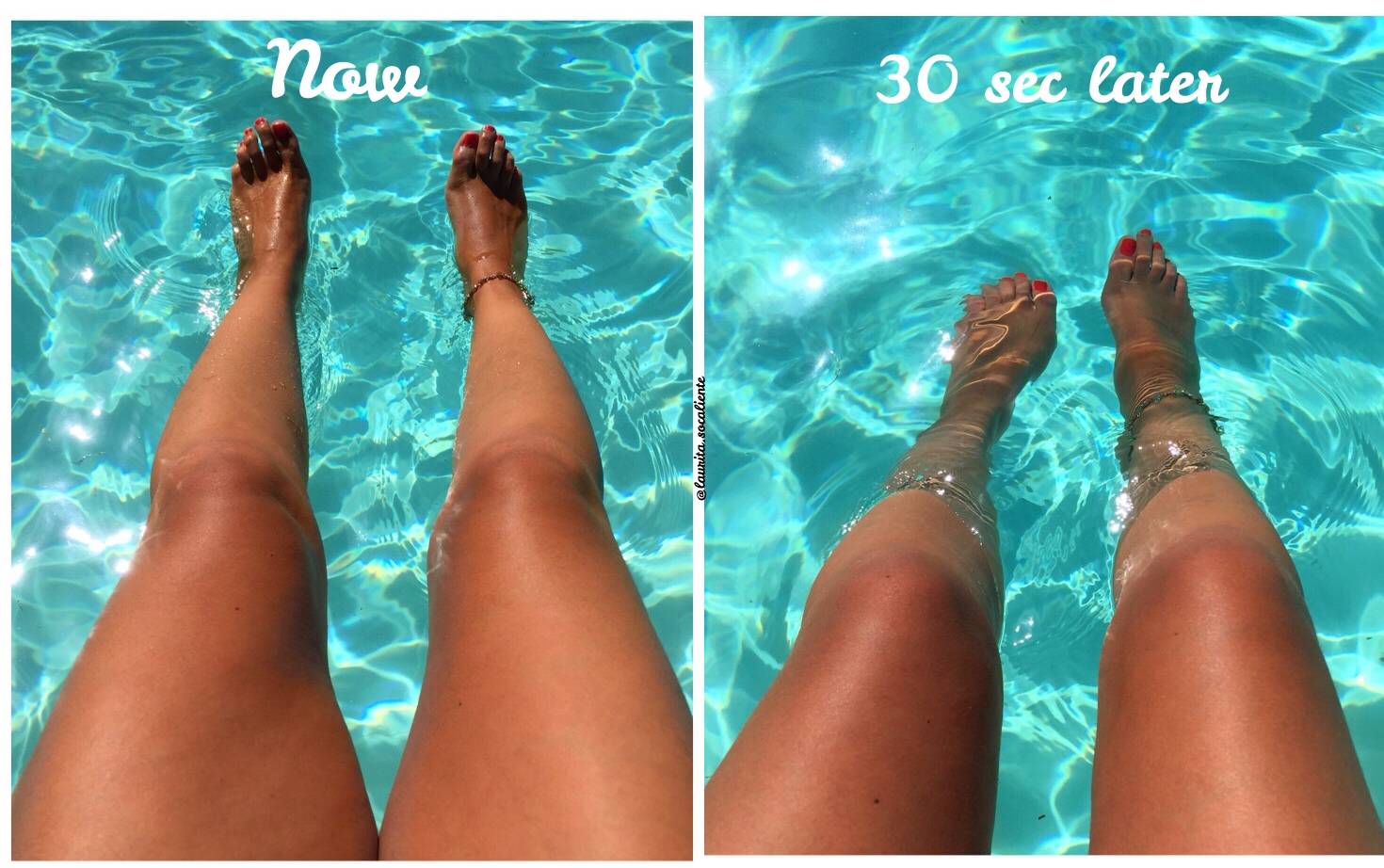 So let us stop feeling bad, just remember you are beautiful, strong and you have a lot of qualities ! You just use social network to motivate yourself, but not to compare !
With humanity,
Xxx
L.S.