🇫🇷 Hello à tous !!
Vous m'avez beaucoup demandé, voici donc ma recette d'Açaï bowl.
Alors je tiens à vous prévenir, l'Açaï coûte un bras ! Littéralement. Vous pouvez en trouver dans n'importe quel magasin bio, je prends le mien chez Naturalia mais j'en ai vu ailleurs. A vous de faire votre étude de marché niveau prix parce que vous pouvez aisément compter 25 euros les 100g… Mais rassurez-vous, le paquet peut vous tenir un bon moment. Attention toutefois, avant de l'acheter, vérifier qu'elle ne contient pas de pesticides ni engrais.
D'autre part, histoire de ne pas mourir idiots, voici quelques qualités et vertus que regroupe l'Açaï.
Initialement, c'est une baie qui se trouve principalement en Amérique Latine, et dont les propriétés sont anti-oxydantes, anti-inflammatoires,
De par sa teneur élevée en vitamines et minéraux, l'Açaï vous aidera à garder une peau lisse, et saine. Si vous souhaitez booster votre système immunitaire, ou vous aider à digérer, vous avez également frappé à la bonne porte.
Pour les plus coquins, sachez que l'Açaï présente également bienfaits pour la libido !
Bref, vous l'avez compris, ce super aliment regroupe moult qualités qui ne vous feront que du bien.
Alors, comment le consommer me direz-vous ?
Vous pouvez soit l'incorporer dans vos smoothies (1cas suffit), soit dans vos yaourts natures (ou yaourts au soja ou coco) (1cac suffit), ou encore vous tenter un petit Açaï Bowl à la brésilienne !
Voici ma recette !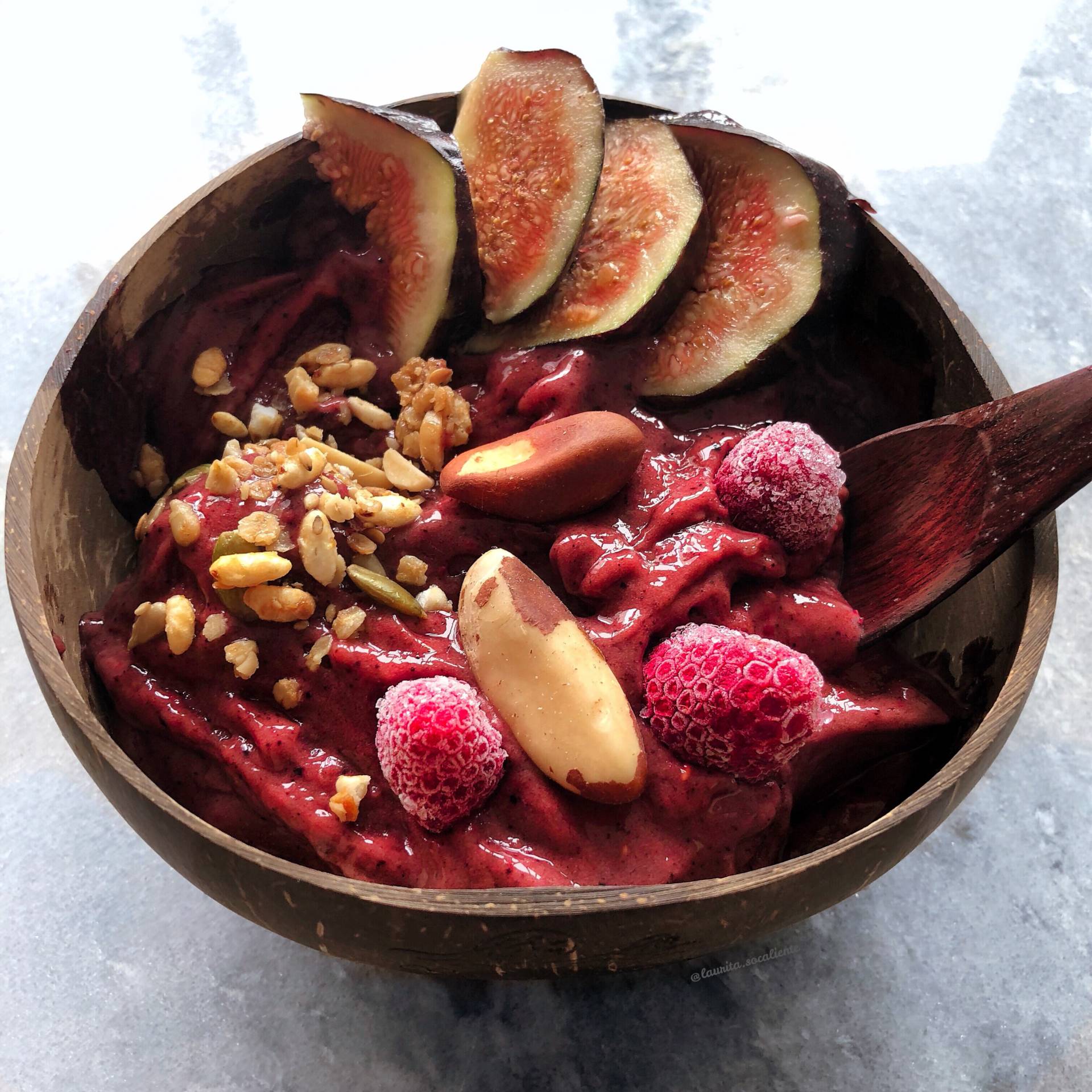 Ingrédients
2cas de poudre d'açaï
1 banane congelée
1 bol de mangues congelées
1 bol de framboises congelées
20ml d'eau de coco
1 citron pressé
4 glaçons
Recette
Sortez les fruits congelés du congélateur 10 minutes avant
Mixez tous les ingrédients dans un blinder (attention qu'il soit en verre)
Servir immédiatement, et toper avec tout ce qui vous fait plaisir !
Exemple : noix, baies de gojis, fruits frais, beurre d'amande, noix de coco rappé…
Bon appétit !
L.S.
---
🇺🇸 Hello people !!
You asked a lot so here is my Açaï bowl recipe!
So first things first, you need to know that Açaï costs a lot! Seriously it's like 25 euros for 100g ! But don't you worry, you won't use the whole pack in one shot. I don't know where you guys live but in Paris, you can find it in every organic shop, such as Naturalia. If you are living abroad, feel free to write me in comment where I can find it in your country so I know I can go there when I travel !
So before even considering eating Açaï, we'd better know what is it good for should not we ?
So, Açaï is a berry from Latin America which has a lot of properties such as being antioxidant and anti inflammatory !
if you have Açaï on a daily basis, it will help improve the quality of your skin, thanks to all the vitamins and minerals it contains.
If you have trouble to digest, are often bloated etc, you have here a great ally.
And for the most cheeky, this berry helps to boost your libido 😉
I think you got it, to help your body being healthier inside, you can consider Açaï berries.
So now you might wanna ask, how do we use it?
You can add it in your smoothies (2 tbsp are enough), in your soya/coconut yoghurt (1tbsp is enough) or you can try the real Açaï Bowl like Bresilan do !
Here is my recipe !
Ingredients
4 tbsp of açai
1 frozen banana
1 cup of frozen mango
1 cup of frozen raspberries
1 squeezed lemon
4 ice cubes
1 splash of coconut water
Method
Put off the freezer all the fruits like 10 minutes begore
Mix all the ingredients in a blender
Serve right away and top with whatever you like.
For example : nuts, PB, chocolate, fresh fruits…
Bon appetit !
L.S.