Bon, je ne cesse de le répéter, si vous voulez que votre rééquilibrage alimentaire soit durable, il faut non seulement vous faire plaisir dans ce que vous mangez (c'est-à-dire AIMER ce que vous mangez) mais aussi varier les plaisirs pour ne pas tomber dans la routine mortelle du brocoli/poisson blanc !
Du coup, je vous invite à fouiner sur mon blog, sur Instagram ou même Pinterest pour débusquer de nouvelles recettes, et ainsi toujours découvrir de nouvelles choses.
Je suis tombée sur une recette hyper fun, les Cloud Eggs ! Ce qui est top, c'est que vous pouvez les faire à n'importe quel goût. Pour mon premier essai, j'ai tenté nature, et franchement, agrémenté d'une petite sauce ketchup maison, rien de tel !
Ingrédients (pour une personne)
2 œufs
Recette
Séparer le blanc des jaunes
Monter les blancs en neige
Former sur une plaque adhésive 2 boules de blanc d'œuf, en prenant soin de créer un petit cratère au milieu
Enfourner pendant 8 à 10 minutes (selon préférence)
Rajouter les jaunes par-dessus et laisser 2 minutes au four
Placer des une assiette et déguster chaud.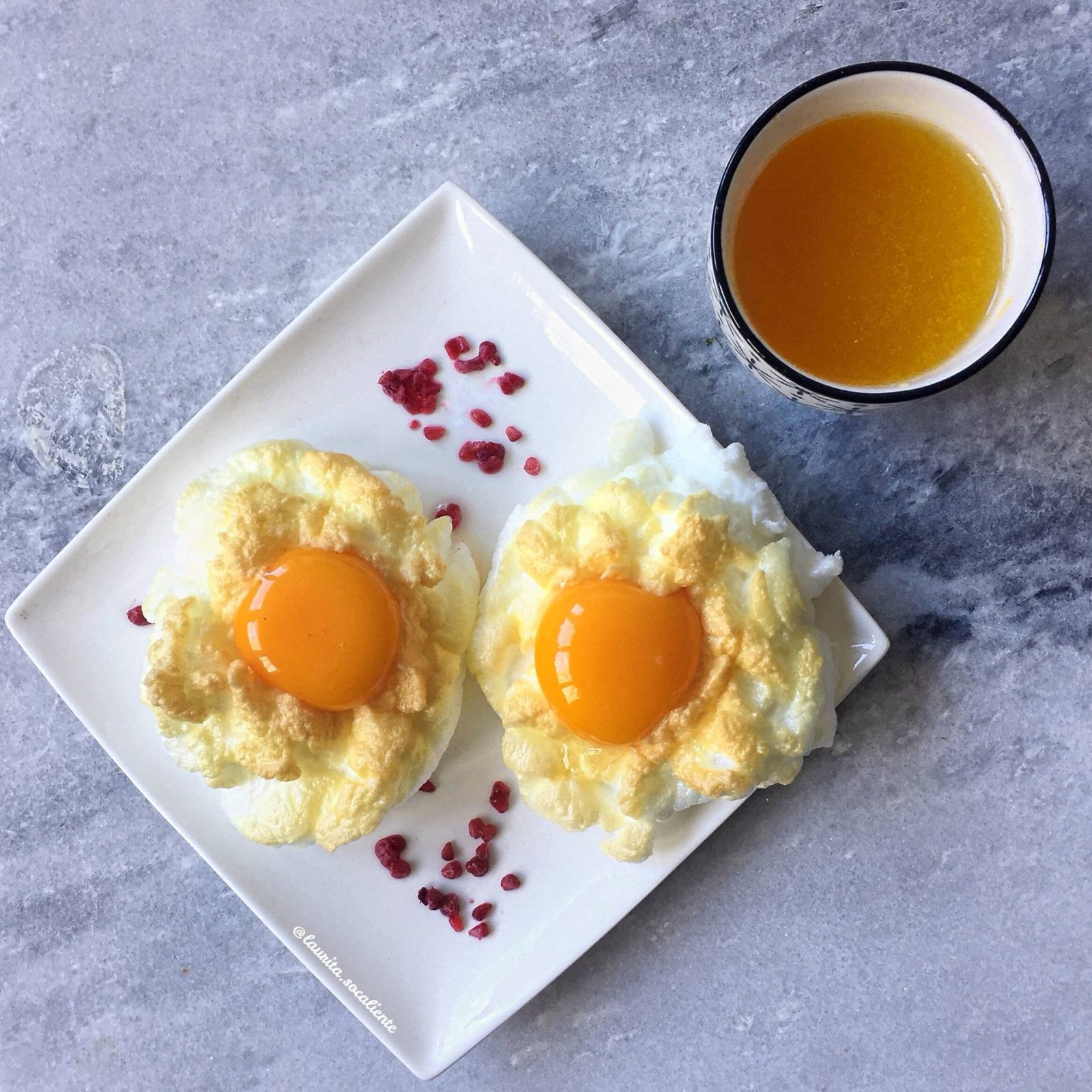 Si l'essai est concluant, vous pouvez rajouter du fromage dans vos blancs d'œufs (à la main une fois battue), des dès de jambons, des olives ou tout ce que vous voulez avant d'enfourner.
Attention, les jaunes d'œufs sont très gras et plein de cholestérol, personnellement je n'y ai pas le droit, donc je les garde pour faire des gâteaux quand je suis invitée quelque part, ou bien pour mon copain, pour panner ses viandes. Si vous n'avez pas de problème de cholestérol, je vous recommande de n'en manger qu'un sur deux, l'idéal étant de manger 2 jaunes d'œufs max par semaine.
Bon appétit !
L.S.
---
I cannot stop repeating it, if you want your healthy lifestyle to last, you will have to enjoy yourself (that is to say LOVE what you eat), but also vary pleasures so you don't fall into the fatal brocolis/fish routine.
So feel free to seek into my blog, Instagram or Pinterest to find new recipes, there are always new things to discover.
I ran into a super fun recipe: cloud eggs ! What is top is that you can do it whatever tastes you'd like. For my first try, I did nature, and honestly with a little home made ketchup, it is a crush !
Ingredients (for one person)
2 eggs
Method
Split up the yellow and the white
Whisk the egg whites
On a glue plate, create 2 white eggs balls, and create a little crater on the top of both of them
Put in the over for 8 to 10 minutes (according preferences)
Add yellows above and let it for 2 minutes in the oven
Place it in a plate and eat hot
If the first try is a win, you can add cheese manually (once the white are whisked), ham, olives etc… before putting it into the oven.
Careful, yellows are very fat and full of bad cholesterol, personally I cannot have them so I keep it either to cook cakes when I am invited somewhere, or for my boyfriend to breadcrumb his meat.
If you don't have any cholesterol problem, I still suggest you only have one, and the ideal is to have no more than 2 yellows per week.
Enjoy,
L.S.